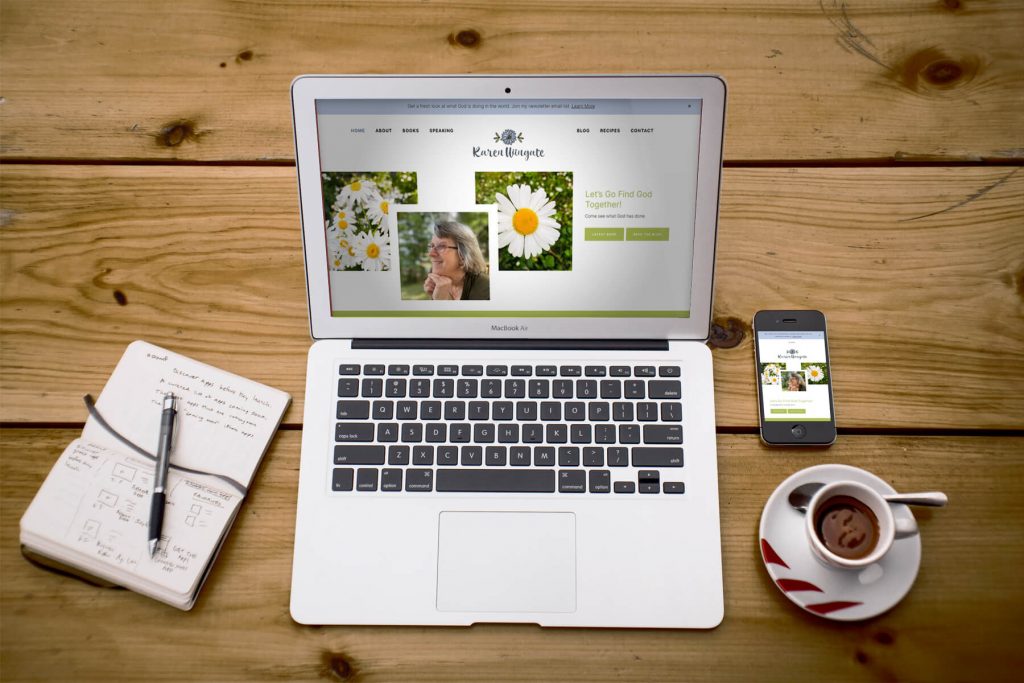 Author, speaker, and Bible Study Leader, Karen Wingate, has been a client for a few years. She desired to update the look and feel of her Grace on Parade website to broaden its appeal and prepare it to feature her books as they are published. She has been an avid blogger for many years but also wanted to display her recipes more prominently.
Since we were transitioning from Grace on Parade as her primary focus to Karen Wingate, we created a new logo to help to enhance her new branding. We included her lovely daisy motif in the new logo to help identify her.
For the photography, we took into consideration the daisy motif used in previous websites. At Karen's request, we included her new desert home in the website as well. You can see key daisy photo from the previous website used as a background for the signup form on her ABOUT page.
Since Karen would be publishing her next book soon, we also wanted to focus her website more toward the needs of an author. Most author websites featured signups for their newsletter noticeably throughout their websites. We created multiple opportunities for the visitor to take advantage of Karen's newsletter. We also included the MyBookTable plugin to easily share links to purchase her books and Amazon previews on her website.
One of my favorite additions to the new website was two video promotions. One on the homepage and the other on the ABOUT page. Karen's excellent videographer helped present her in the best light. The videos are delightful.
Her website is now ready to feature the publishing of her latest book and begin the marketing for it. We're excited to share https//karenwingate.com